Chantal Wolf is the recipient of the 2021 Clerkson Award, presented by the Blue Mountain Foundation for the Arts.
Working mainly in watercolour, acrylic and pen, Wolf finds joy, fascination and deep satisfaction through the creative process by following the what-ifs, happy accidents and possibilities. "Winning this award is such a wonderful honour," says Wolf, "To be recognized in this way means a lovely opportunity to share my art and my passion for the creative process with more people. And hopefully to inspire some, along the way…or at least spread some beauty and joy."  
Inspired by an exceptional art teacher in high school, Wolf studied illustration at Sheridan College but is mostly self-taught. A diagnosis of Parkinson's Disease reignited her creativity and allowed her to reclaim the artist within.

"This award confirms that I am on the right track by choosing to embrace the creative path as a way to navigate living with Parkinson's Disease.  Art and creativity have blessed me with so much, expanding my world and my work; bringing meaningful growth both personally and creatively, exciting opportunities, and experiences as well as lasting connections and cherished friendships with other incredible, inspiring artists. Then, to add the thrill of winning this award, well that's pretty amazing. I am so grateful."
With this award Wolf is excited to see where the paintbrush takes her next. "Now is my time to explore and expand my vision, to breathe life into what is waiting to unfold." View more of Chantal Wolf's work at chantalwolf.com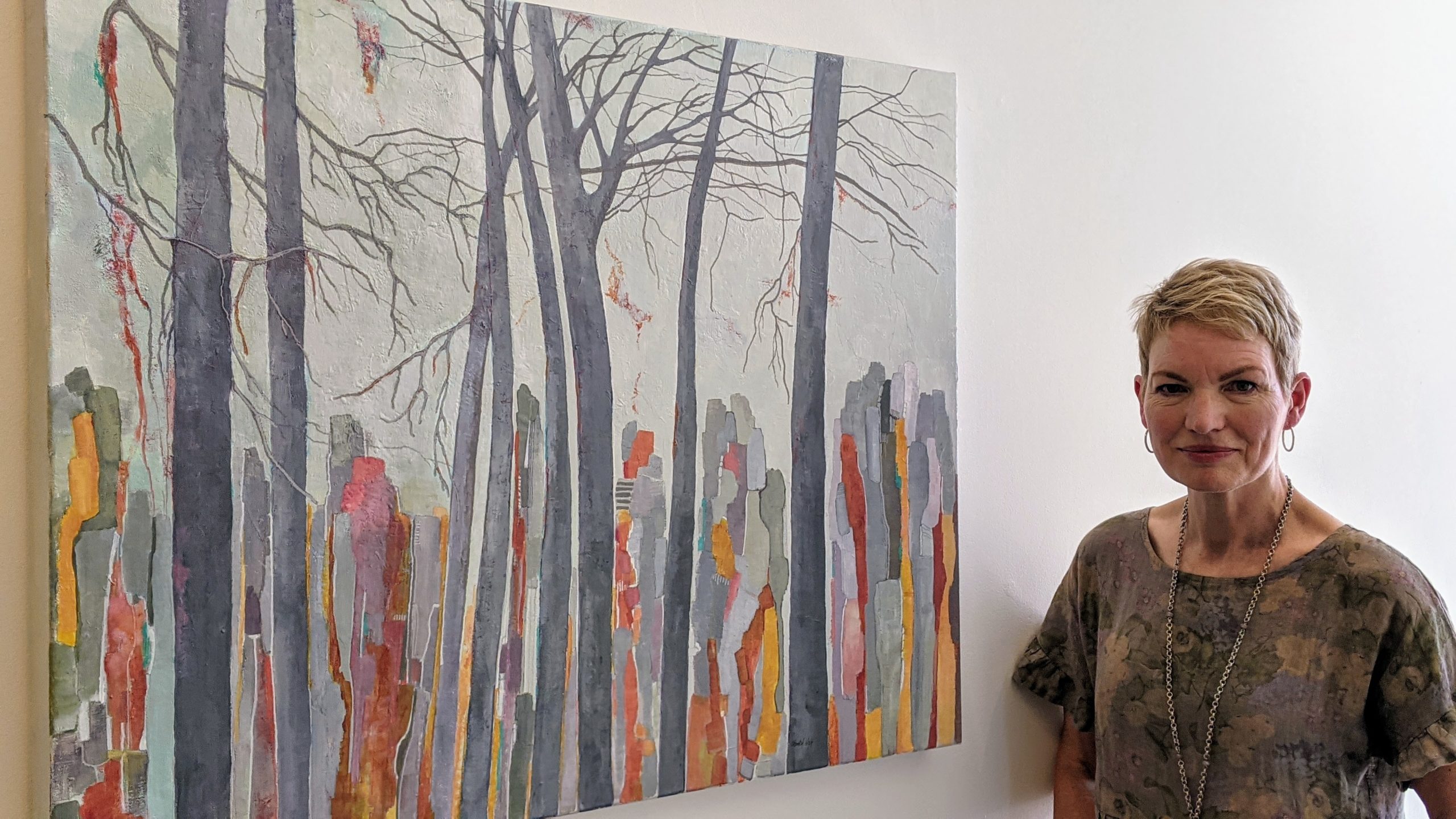 Artist Chantal Wolf with "Heading North", 40″x30″ acrylic on canvas
As always, there was no shortage of talent submitted for this award. Our four finalists also include the work of:
Natalya Garrod
John Cardillo Jr.
Jocelyn Johnson
Andrew Aviste
Click on an artist's name above to view more of their work.
How to view the show
View the full exhibit online here: The 2021 Clerkson Exhibit  
In person at the exhibit hall at 65 Simcoe Street. 
Open Wednesdays – Fridays:11am – 3pm and Saturdays: 10am-3pm
About the Murray Clerkson Award
The prestigious Murray Clerkson Award celebrates the accomplishments of an outstanding, local, emerging, visual artist who has demonstrated potential for significant contribution to the arts. It is given to an individual who has shown courage and determination in becoming an artist. Murray's wish is that the award would recognize an evolving or emerging artist, not yet professionally established, but who has reached a stage where he/she now possesses a body of work that indicates strength, purpose and commitment. The award is open to artists residing in the south Georgian Bay area, working in any visual arts discipline.
About the BMFA
Serving South Georgian Bay since 1975, The Blue Mountain Foundation for the Arts (BMFA) is a non-profit, community Arts organization based in Collingwood, Ontario. The BMFA is committed to inspiring excellence in the visual arts through educational and creative opportunities. The BMFA has monthly exhibitions of traditional and contemporary art from local and regional artists and artisans as well as community talks, art presentations, musical performances, poetry readings, Youth programming, and art workshops.
Follow us on instagram! @bmfafoundationarts