Meet our Team!
Serving South Georgian Bay since 1975, The Blue Mountain Foundation for the Arts (BMFA) is a non-profit, community Arts organization based in Collingwood, Ontario. The BMFA is committed to inspiring excellence in the visual arts through educational and creative opportunities. The BMFA is comprised of a dedicated team of members, staff, volunteers and board members.
Follow us on instagram to keep up with all things art! @bmfafoundationarts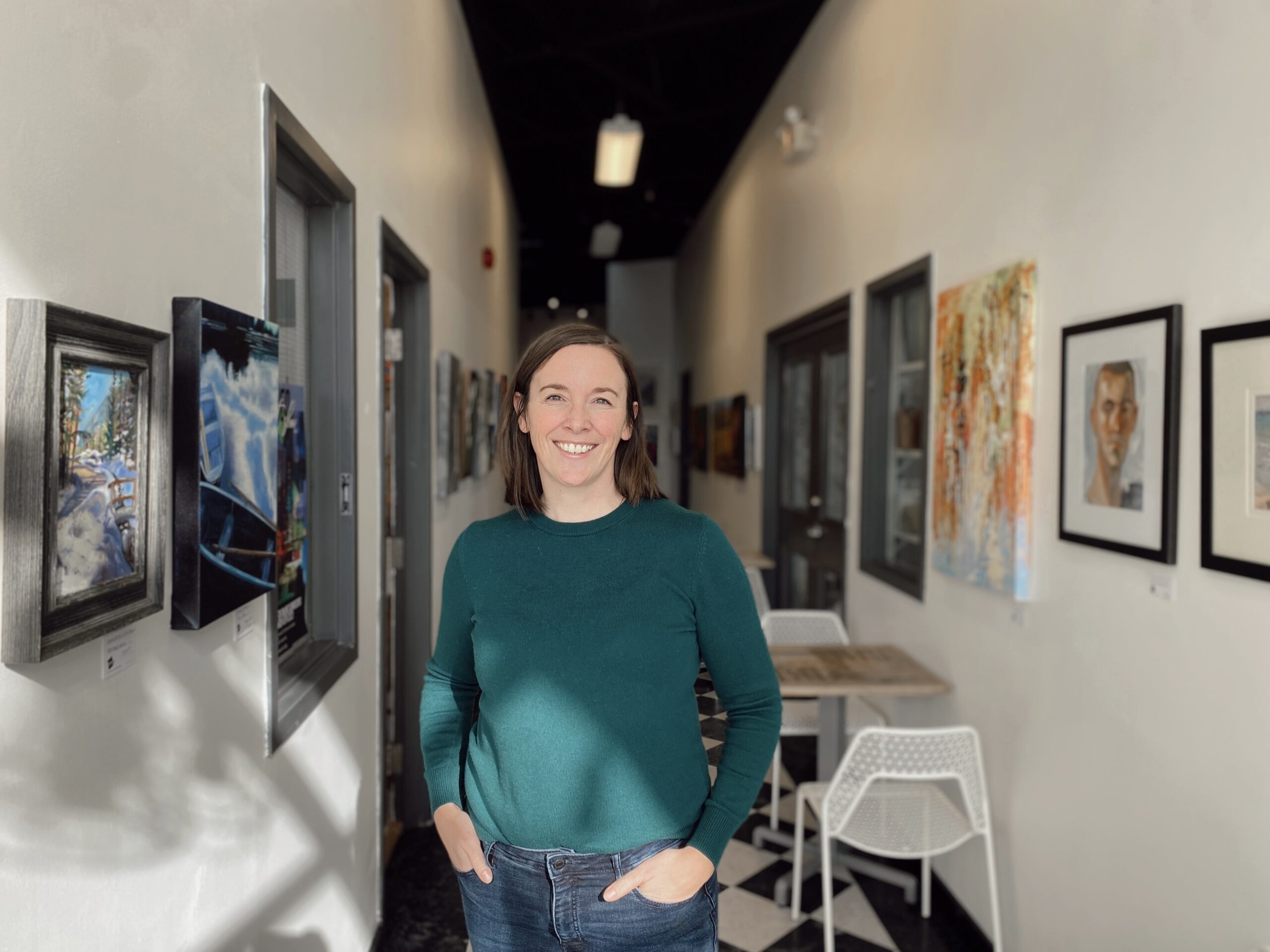 Amber Ebert
Director of Operations
Amber Ebert has 15 years of experience working with arts organizations to plan, implement and deliver arts programs She has worked with organizations such as Tapestry Opera, Soundstreams, Young People's Theatre and Centennial College. After obtaining a degree in Theatre and Performance Studies and a diploma in Cultural Management, she performed professionally in productions at Bad Times Theatre and Factory Theatre in Toronto. Amber served on the Board of Directors of the Arts Education Network of Ontario (formerly PAONE) for six years. In 2017 she was one of ten international participants selected to attend the inaugural two-week Teaching Artist Leadership & Advocacy Lab delivered by Lincoln Centre Education in New York City.  Currently, she is the Network Development Coordinator for the SGB Arts Network and oversaw the network launch in 2022 in collaboration with key members of the cultural community in Collingwood and throughout the region.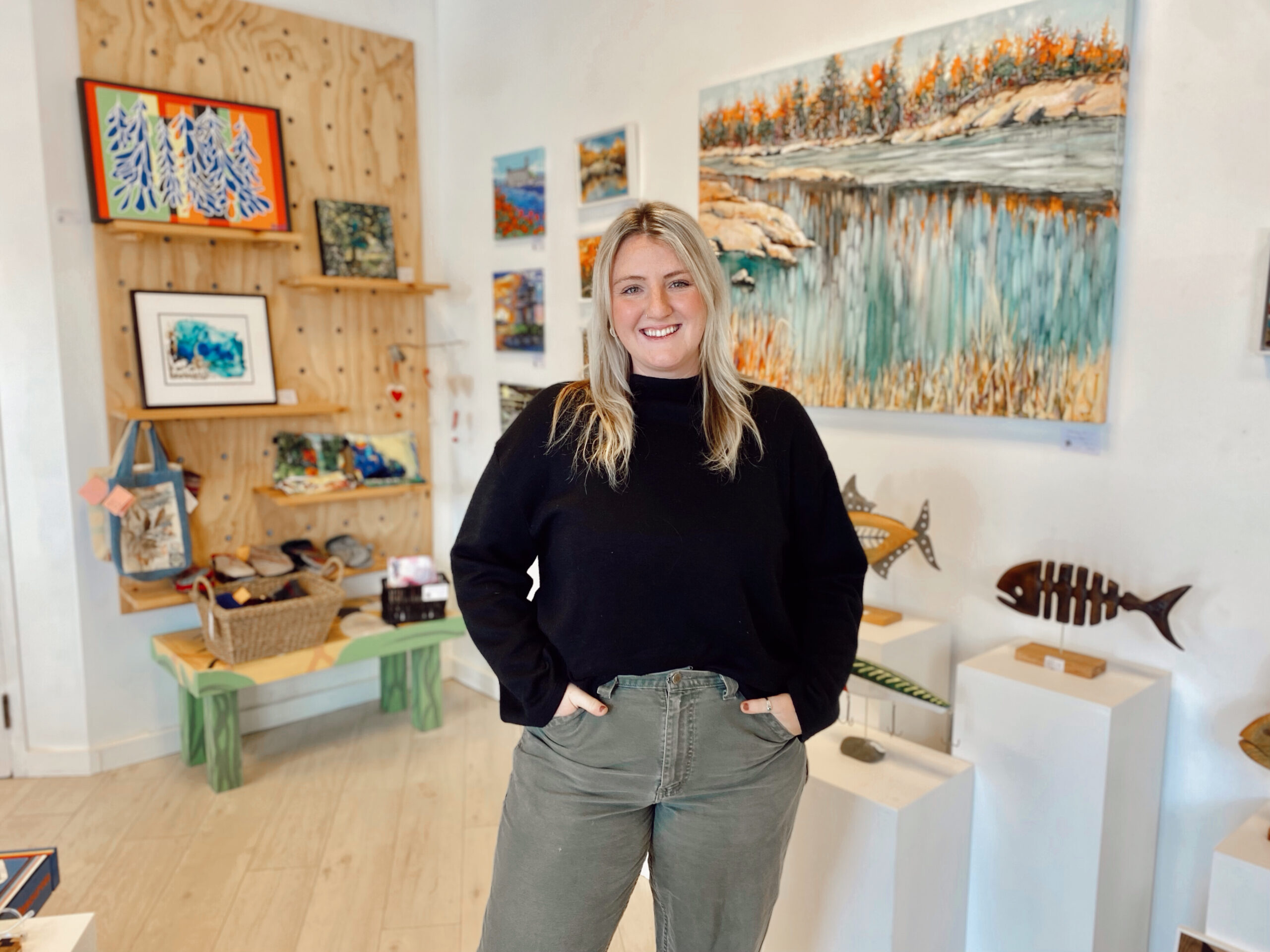 Erin J Coholan
Creative Coordinator
Erin J Coholan received her BFA in Image Arts from The Toronto Metropolitan University specializing in multimedia studies and installation based work using both still and moving images. She began her fascination with the arts at the young age through her camcorder and disposable cameras. Erin has continued to pursue her passion for the arts in both her personal work as well as within a community setting. Much of her work regardless of the medium heavily focuses on the utilization of colour and intuitive expression. In a professional setting she has engaged closely in digital programming, arts coordination and curation. Erin has a strong interest in youth focused programming and accessibility in the arts. Her work has appeared at Ryerson Artspace, in Maximum Exposure Magazine, and screened at Trinity Square Video. Here in Collingwood she looks forward to expanding her knowledge and connecting with artists.
Patricia Andrew
Member at Large
Jill Bates
Member at Large
Don Brommet
Member at Large
Karin Modotto
Chair
Martha Moore
Member at Large
Judy Morrison
Past Chair
Judy Scopes
Secretary
Linda Unsworth
Vice Chair
The Blue Mountain Foundation for the Arts is seeking Board Members
Are you interested in the arts and supporting the development and opportunity to showcase the artist of Southern Georgian Bay Then we want you on our team!
About The Blue Mountain Foundation for the Arts (BMFA)
The Blue Mountain Foundation for the Arts (BMFA) has been the pre-eminent, non-profit charitable arts organization in Southern Georgian Bay for over forty-seven years. Our goal is to inspire excellence in visual arts through educational and creative opportunities.  We support and promote the work of 220 members through annual community events, juried shows, workshops, art talks, mentoring and operating an art shop in downtown Collingwood. The membership comprises talented artists of all ages who work in a wide range of creative fields. The BMFA is proud of its contribution to the work of our region's artists and the vibrancy, well-being, and economy of our community as a whole.
Our board is composed of individuals and members with a diverse skill set with a common goal of working together to bring the BMFA's annual programming to life.
About You: 
You are:
Aligned with BMFA's mission and its culture and values; 
Kind, compassionate, self-aware and have a desire to seek feedback, learn and grow;

Organized and manage timelines, goals and expectations well. 

Truly interested in supporting the growth of the BMFA and committed to establishing and supporting the BMFA strategic direction. 

Interested in the Arts
You are looking to:
Share your expertise, knowledge and learned experience;

Develop new skills while deepening existing ones;

Strengthen your leadership skills;

Expand your social and professional networks;

Be a mentor;
Support and strengthen your community.;

Be part of taking BMFA to the next level!
Who we are looking for:
We are looking for Board members who are interested in rolling up their sleeves and getting involved on the Board to bring its 5 year strategic plan to life.
Board members can live anywhere in The South Georgian Bay area.
Board members with expertise, knowledge and/or learned experiences in the following areas will help strengthen BMFA's ability to fulfil its mission:
Accounting/Financial Management

Fundraising

Business/Corporate Partnerships
Previous board experience, while not necessary, is desirable. Director accreditation is not required. We aim for our Board to encompass diverse voices, backgrounds, and perspectives.
Time Commitment:
This voluntary commitment involves attending monthly board meetings that take place the third Tuesday of the month. Mostly held online, board meetings are held in person two to three time a year. Board members are also regularly involved in working committees such as:
Program Committees – Juried Art Show, Juried Photo Show, Art About Town
Awards Committees – Clerkson Emerging Artist Award, Kemp Award for innovative artistic project

Fundraising Committee – Developing and supporting the delivery of both annual and event based fundraising.
A board term is 4 years and a member can serve two consecutive terms.
Responsibilities of a BMFA board member:
Provide strategic leadership;
Be knowledgeable about the BMFA's mission, vision, values, programs and long-term objectives;

Monitor and assess organizational performance;

Ensure the BMFA has sufficient financial resources to carry out its mission; 

Understand the fiscal implications of decisions;

Be prepared to actively engage in board meetings;
Be an ambassador and promote BMFA's work in the community;

Support the Director of Operations and other staff;

Ensure no conflicts of interest exist and that duties are upheld.
How to Apply 
If you feel the BMFA is a great fit for you, we would love to hear from you. 
Please email a statement of interest to [email protected]. In your statement include:
Why you wish to be a BMFA board member;
How you can support BMFA (expertise, knowledge and/or learned experiences); and 
Which working committee(s) you are interested in joining Program, Awards, and/or Fundraising).
This posting will remain open until positions are filled.
We sincerely thank all applicants for their interest in the Blue Mountain Foundation for the Arts but only those selected will be contacted!
The Blue Mountain Foundation for the Arts (BMFA) – Fundraising Committee
The purpose of the Fundraising Committee is to develop new, and nurture existing partnerships with individual donors, regional businesses, government funding sources, and private foundations and to fund the BMFA.
Duties and Responsibilities of Committee Members:
Become familiar with the mission statement, guiding principles, and core values at the BMFA.

Attend at least 75% of committee meetings
Come to the meetings prepared

Carry out tasks outside of the meetings assigned by the committee
Goals:
To contribute to the creation of a 2 to 3 years fundraising strategy for the BMFA

To raise funds to meet the financial needs of the BMFA.
To set attainable goals to be raised through corporate sponsor or partners on an annual (and projected 3 year) basis. Create an implementation plan to meet said goals.
Responsibilities:
Working with the BMFA's Director of Operations and Board Chair to actively solicit sponsorship of corporate partners and / or regular donors.

Develop fundraising policies, guidelines, and best practices, including appropriate levels of support and 'asking' targets.
Support staff in the development and implementation of a recognition plan for donors, sponsors, foundations, and partners.
Time Commitment:
All members must serve a minimum of one year.

The time commitment for a committee member will generally be up to one hour per committee meeting, plus extra time for work as assigned by the committee

The Chair has the authority to call unscheduled meetings, if necessary, to handle emergency situations if, or as they arise.