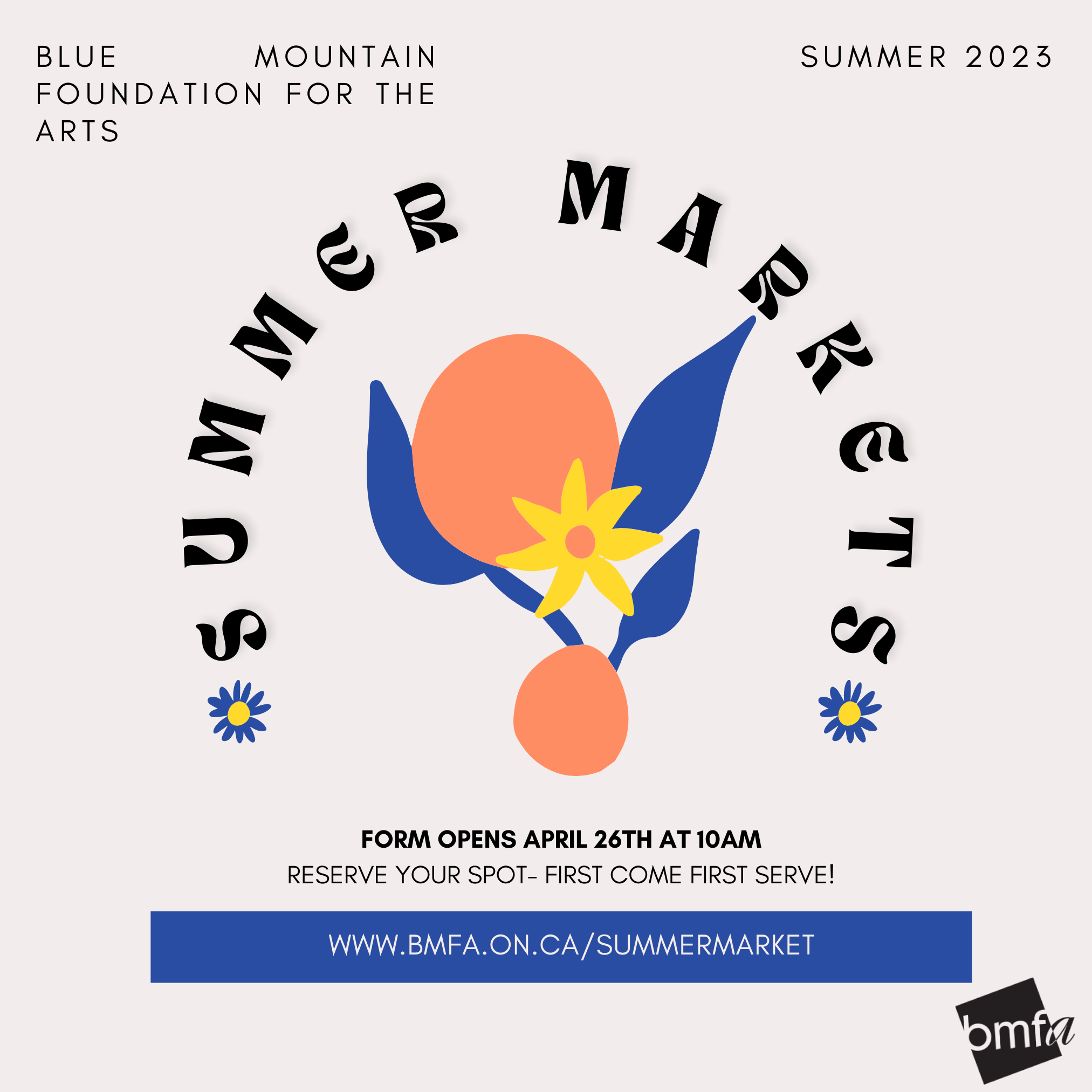 Thank you to everyone who signed up.
Stay tuned for updates on future markets through our newsletter.
This summer the BMFA has registered for seasonal tables at the Collingwood Farmers Market and Clearview Township's Music Marketing and Park It weekly summer markets.  We are providing members the opportunity to book tables at each market through the BMFA for $30 per table, per event.  Members are allowed to book up to two dates for the Collingwood Farmers Market and one for the Clearview Market. Dates will be booked on a first come first served basis. 
Wednesday, April 26 at 10:00am via the email newsletter, Instagram and on the BMFA website. Please be prepared to submit two preferred dates, and two alternate dates for the Collingwood Farmers Market, and one preferred date and one alternate date for Music, Market, and Park it. Emails to confirm the market schedules will be sent to members on Wednesday, May 3rd.
We will be releasing the link for members to book dates for the markets on 
Members not able to book a table will be added to a waitlist for their chosen dates and will be contacts should the table become available.Market Details:Collingwood Farmers Market, hosted by the Collingwood Business Improvement Association (BIA)Address: Parking Lot at the corner of Second & Pine Street, Collingwood
Dates: Every Saturday morning from May 20 to October 7, 2023
Times: 8AM to 1PMMusic, Market & Park It, hosted by Clearview TownshipAddress:  Station Park, 7259 Hwy 26, Stayner, ON  
Dates: Every Thursday evening, June 1 to August 24, 2023
Times: 4:30 PM to 7:30 PMMember Responsibilities:
This opportunity is open to current members of the BMFA.
Payment for the table(s) will be processed upon confirmation of your chosen date(s). Failure to pay promptly will lead to your selected date(s) being released. Payment can be done over the phone by calling 705.445.3430 or visiting the BMFA shop opened 11 AM to 3 PM Wednesday to Saturday. 
Payment is non refundable. Should you not be able to make your confirmed date it is the member's responsibility to find a replacement for the table from the waitlist. 
Members are responsible for the set up and take down of the tables and artwork at each market. The BMFA staff will not be onsite each week to assist. 
Members must display BMFA signage and BMFA marketing materials on the tables at each market. 
Members will be asked to keep track of how many visitors to the table, and an approximate amount of sales made at each market and report back to the BMFA staff to assist with program tracking. 
For Collingwood Farmers Market: Members are welcome to use one of the BMFA market tents if arranged in advance. The tent must be picked up BMFA office during the Shop hours the week prior to your confirmed market date. The tent must be dropped back off during the Shop hours the following week. The Gift Shop hours are 11 AM to 3PM Wednesdays to Saturdays. 
Check back here April 26th at 10am for the link to the form!
See you soon!