Welcome to the BMFA Juried Art Show 2023
Now in its 43rd year, the BMFA is proud to present this prestigious show both online and in person at 65 Simcoe St. Collingwood, ON.
The categories are as follows: Adult 2D/3D, Student 2D/3D, Adult Digital and Student Digital. Over 150 submissions were received. Each piece was scored and critiqued by 4 jurors. Scores were based on Originality, Technique and Composition.
The following is the exhibit of all entries and winners.
Congratulations to the winners and accepted artists, and thank you to all who submitted work.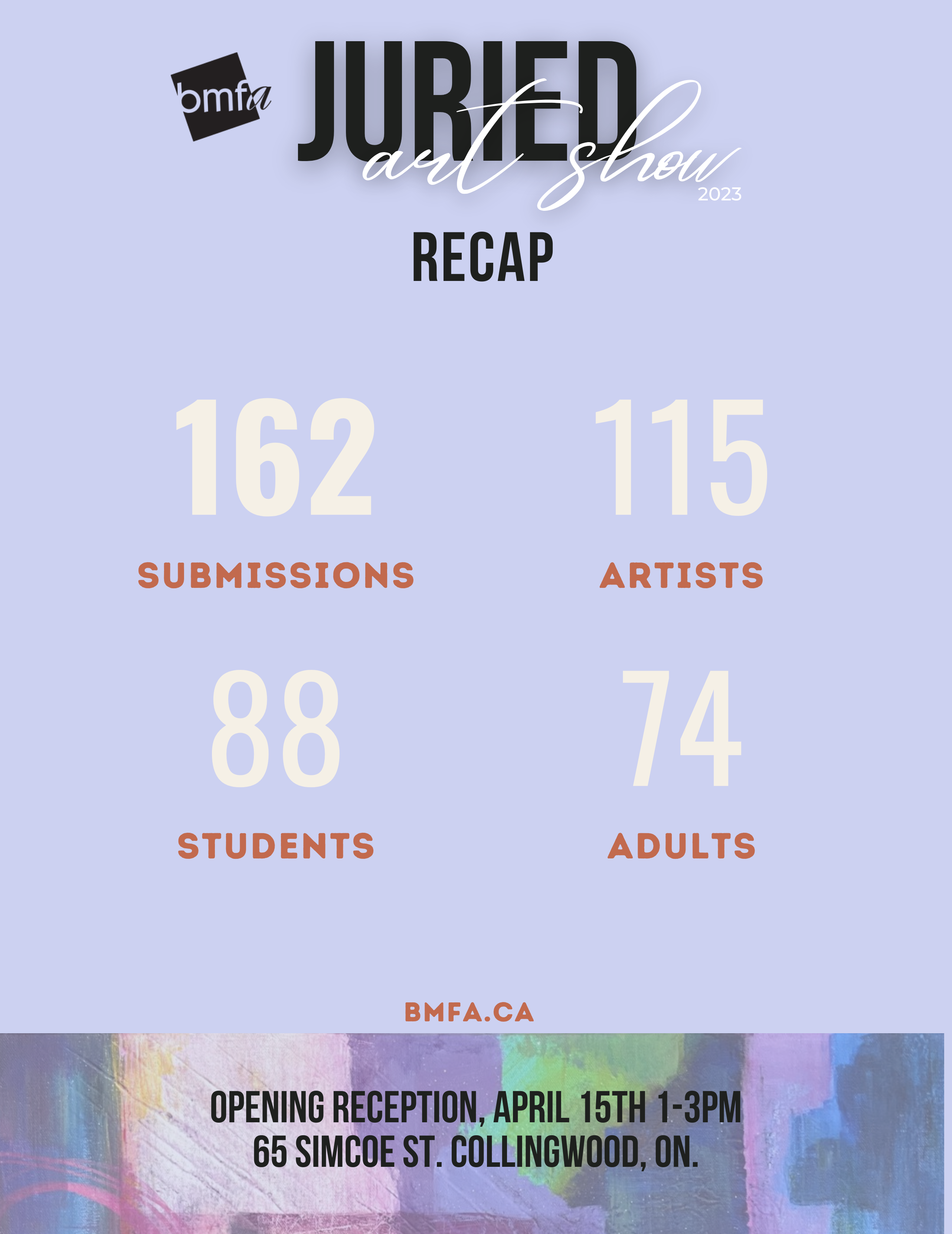 Our Jurors
SARA SNIDERHAN
Sara Sniderhan is one of Canada's premier portrait painters. She has received an Award of Excellence from the Portrait Society of America and was a finalist for the Kingston Prize for Portraiture. Her portrait of Canadian actor Enrico Colantoni is housed in the permanent of the Portrait Gallery of Canada. Sniderhan's work has been exhibited in Toronto, New York, Calgary, Charleston S.C, Winnipeg, Hamilton and Creemore,ON.
Sara studied classical drawing with British painter Michael John Angel and life painting with American master Jeremy Lipking. For 5 years she taught drawing and painting at the Ontario College of Art and Design University in Toronto. She was awarded a Laurel from the Toronto Star for her work in community arts across the Greater Toronto Area.
Sara Sniderhan's focus on painting people began at the age of 15. Her personal work explores human emotion and condition. In her portraits she looks to capture the sitters' core character as well as their physical likeness. Sara has had the honour of painting hundreds of faces including CEO's, beloved families, actress Sandra Oh, writer Thomas King and Indie Rock darling Hayden Desser. She is currently working on a public portrait of Chancellor Grit McCreath for the University of Saskatchewan.
Sara lives on a farm near Creemore, Ontario with her husband and their two children.
TANYA ZARYSKI
I have a foot firmly planted in both the fine craft and art worlds. I am a painter. I am a glassblower, creating functional, decorative and sculptural works. I am a mixed media sculptor, working with clay and found objects. Fundamentally though, when you set aside the fluidity of materials and processes, I am at the core a storyteller.
Much of my work grows out of my early experiences of growing up on a farm in rural Ontario. As a child I was interested in the minute details of the natural world, of how the lives of the creatures living there were dictated by the environment. This rural sensitivity has stayed with me and comes out in my choices of materials, love of worn and aged surfaces, and subject matter I choose in my works.
As a painter, my subject matter at first may appear mundane, often exploring the landscapes around my home. I continue to return to certain places (houses, barns, fields) for inspiration. I have, perhaps, many paintings of the same place in different lights, seasons and configurations. They are places with which I have developed a particular intimacy through passing them time after time, and noting their slight and remarkable variations. Sometimes it becomes an obsession. Other paintings are often detailed explorations of flora and fauna. Still life melons are cut open to reveal the fecund seed offerings inside. Bird studies and nests are lovingly rendered and often paired with samplings of textile patterns. In the last few years I have started a project called "Rewilding", inspired by my love of painting the human figure surrounded by plants and animals and details from the natural world.
I have lived in the Beaver Valley area for the last 20 years. Currently my home and studio are in Clarksburg, where I live with my teenage son, 2 cats, and a flock of unruly chickens.
JONATHAN CRAIG
Jonathan Craig is a FX Make-up artist, camera operator, actor and art gallery owner.
Coming from a family of artists (father Philip and sister Shannon are both painters, brother Jordan is a photographer & musician, and mother Diane works in jewelry and owned an animation studio for several years), he seemed destined to go into a creative field.
Jonathan began his career as a camera operator for television, but in his early 20's decided to pursue another calling and studied Special FX Make-up in Toronto. Since this time Jonathan has worked in both professions, as well as creating his own art. Jonathan's work is sculptural with a focus on bizarre and somewhat macabre subject matter.
After moving to the Walter Falls area in 2016, he was able to put more energy into his sculptural projects and has shown with the Walters Falls Group of Artists since 2018. That same year he had the opportunity to explore another long-held interest – acting, with a role in the feature film, "Making Monsters." Since then, he has acted in two more feature films (both by local production company Collingwood Film Co.) and a couple of television series.
In 2019 Jonathan and his wife Bridget opened an art gallery in Meaford ON, Craig Gallery. The gallery features work by several local artists along with paintings by Jonathan's father & sister, and photography by his brother.
When he's not at the gallery or working on a production, Jonathan can usually be found in his shop or studio in the basement of the old church he lives in with his wife, young son and two cats.
JENNIFER BELANGER
Jennifer is a medical and scientific illustrator originally from Wasaga Beach. In her youth her paintings were featured in the Magic of Children's Art Show, the Great Northern Exhibition, and the BMFA Juried Art Show.
She attended Collingwood Collegiate Institute, where she enjoyed classes in both science and art. Thanks to a family friend introducing her to the field of scientific art, she graduated high school with the goal of becoming a medical illustrator. While completing a Bachelor of Science at Dalhousie University in Halifax, Jennifer received permission from the Dean of Science to minor in Fine Arts at the Nova Scotia Academy of Art and Design.
Jennifer graduated with a Master of Science in Biomedical Communications from Canada's only programme at the University of Toronto. As a student she was awarded for professionalism, surgical illustration, and was designated a Vesalian Scholar by the Association of Medical Illustrators.
She has now worked in the field of science communication for over 10 years. Her illustrations always begin with pencil sketches but are completed using digital tools. Her work is found in exhibits across North America and she has collaborated with the Vancouver Aquarium, Parks Canada, the Department of Fisheries and Oceans, Doctors Without Borders, and the Clearwater Marine Aquarium. While working for McMaster University, she was proud to lead the creative team that designed Canada's first midwifery textbook, a 1400-page, 3-volume, interactive e-book.
Jennifer now resides in Collingwood and teaches an undergraduate course in Biomedical Graphics at McMaster University, where she introduces young scientists to digital art and science visualization.
Harvey by Laura Steels Hitchcock
Awakening by Sonya Satveit
Evelyn May by Nadine Carr
Hummer / Testosterroneous by John Capon
Honourable Mention Adult 2D/3D
Times Square by Rene Bindi
First Place Adult Digital
The Telescopic Head Screams For It Knows More Than Is Knowable by Jasper White
First Place Student 2D/3D
Libellule by Ellie Arnold
Second Place Student 2D/3D
Dirt by Arlo White
Third Place Student 2D/3D
The Fiddler by Jasper White
Honourable Mention Student 2D/3D
Flooded by Ariele Grillmayer
First Place Student Digital
Full Exhibition
Click on the link to scroll through and to see artist name, title, medium and price.