Enter the BMFA's 41st Annual Juried Art Show
Get your creative on……
41st Annual Juried Art Show is OPEN to all Ontario Artists.
CASH PRIZES Awarded.

Artists many only submit two entries. In a combination of either 2D and/or 3D.

BMFA Member $20 fee per entry, Non-member $30 fee per entry, Students (high school and younger) free.
Online Submissions accepted until March 12, 2021.
Note: image submissions must be 2MB or smaller. (This online image resizer is useful for resizing images. Medium size should work for most images.)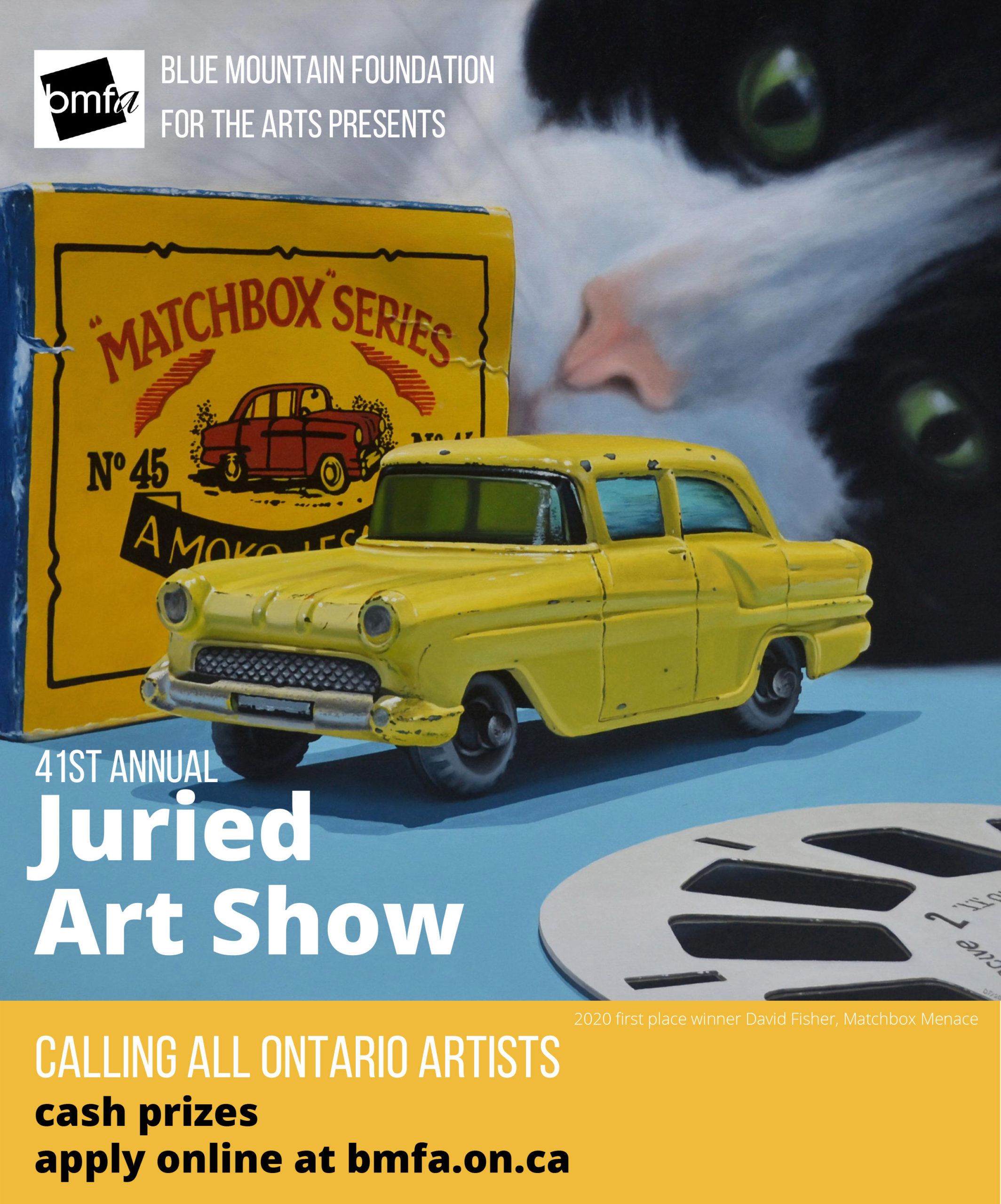 John Anderson
John Anderson says,
"Painting is pretty much like breathing for me now. I started at a young age copying the works of Glen Loates and Andrew Wyeth and it just grew from there with the increased exposure to more and more possibilities with paint. Northern and southern European impressionists along with some of the French and Dutch painters as well as North American impressionists all have left their mark on me."
John is not only a prolific painter, he is also an accomplished art instructor.  He has taught for many years, and enjoys among others, teaching at the Haliburton School for the Arts and the Blue Mountain school of Landscape Painting.
Travel provides John with inspiration and is a very important aspect of his creativity.  John, enjoys instructing Plein Air classes and has taken guided tours in Tuscany, Provence, Avignon in the South of France and Newfoundland,
He has staged exhibitions in numerous galleries including The Mad and Noisy, Creemore, The Arts Gallery at the Distillery in Toronto and Double Door Gallery in Anten Mills..
View his work, List of Events, upcoming exhibits and Workshops at:
Brian Buckrell
Brian Buckrell paints full time and he is living his passion. 
His work is contemporary impressionistic interpretations of the Canadian landscape. Many of his paintings are made on location (plein air). He has received numerous awards for both his studio and plein air paintings and his work has been cited in prestigious art magazines in Canada and the USA.  In 2020 Brian will have the honour of Presenting at the Plein Air Convention & Expo in Denver Colorado.
Brian is a student of art and continues to study with acclaimed artists. He is represented by galleries in BC, Alberta and Ontario. His work has sold throughout Canada and internationally. Brian and his wife Cathy share their time between Comox, B.C. and Collingwood, Ontario.
To view his work and for a list of events and workshops:
Tanya Zaryski
I have worn regular paths through the landscape in which I live.  Like the deer and the foxes have their trails, so do I.  There are certain houses or fields I pass by, roads I travel, collecting them as markers and using them to mark my progress
Working from photographs snapped out the car window, I create panoramas of my countryside.  This format mirrors the long, drawn-out landscapes unfolding as my vehicle travels along the quiet roads.  I work as a chronicler seeking to capture how a place looks at a certain moment in time.  A still point to anchor us in the business that fills our days.
I work primarily as a painter, though sometimes also a glassblower, potter, and sculptor.  Living near Georgian Bay for almost 20 years has given me a deep love of the area and a  connection to the natural beauty of the landscape.  Currently living in Clarksburg, I have a home based gallery and studio space.  I share my life with my teenage son, 2 cats, and a flock of unruly chickens.
Tanya's website is: beavervalleyglass.com
Facebook: Tanya Zaryski Art
Instagram:  @tanyazaryski_art
Juried Art Show 2021 Dates
Open for entry – Friday, Feb. 5th
Deadline for entry – Friday, March 12th
Juror deadline – Friday, April 16th
Intake for art- Friday, April 30th
Exhibit – Wednesday, May 5th to Saturday, June 26th
Take down and pick up – Monday, June 28th
Juried Art Show Rules of Entry
Open to all Ontario residents.
If you are a 2-D Adults Artist, you may submit – One or Two original works in any medium, recently executed and not previously hung in a Juried Art Show. Note: Only one image can be provided for each purchased online submission of 2-D work.
If you are a 3-D Adults Artist, you may submit – One or Two original works in any medium, recently executed and not previously shown in a Juried Art Show. Note: Three images are to be provided for each purchased online submission of 3-D work.
Student Artists will be judged separately and have one combined category. School ID may be requested. College students will be judged as Adults.
Photographic artworks are not eligible.
ONLY images of works received online, before the deadline of March 12th, 2021 will be accepted. Submitted photos will be accepted in jpeg (jpg) format up to 2 MB.
More Information
The jurors' decisions are final.
Entry Fees are non-refundable.