BMFA Fundraising Online Art Auction
Want to unload some art? Either new or gently used, we can help you!
Cleanup your space and help a charity at the same time. The Blue Mountain Foundation for the Arts is holding an exclusive, "art" online auction.  The art includes all types of new or vintage* 2D or 3D pieces: paintings, sculpture, pottery, jewelry, carvings and fine woodwork.  Donate or sell new art, high quality *vintage art or quality signed prints.  The auction will be conducted by the Rockford Auction Centre, with over 11,000 online viewers.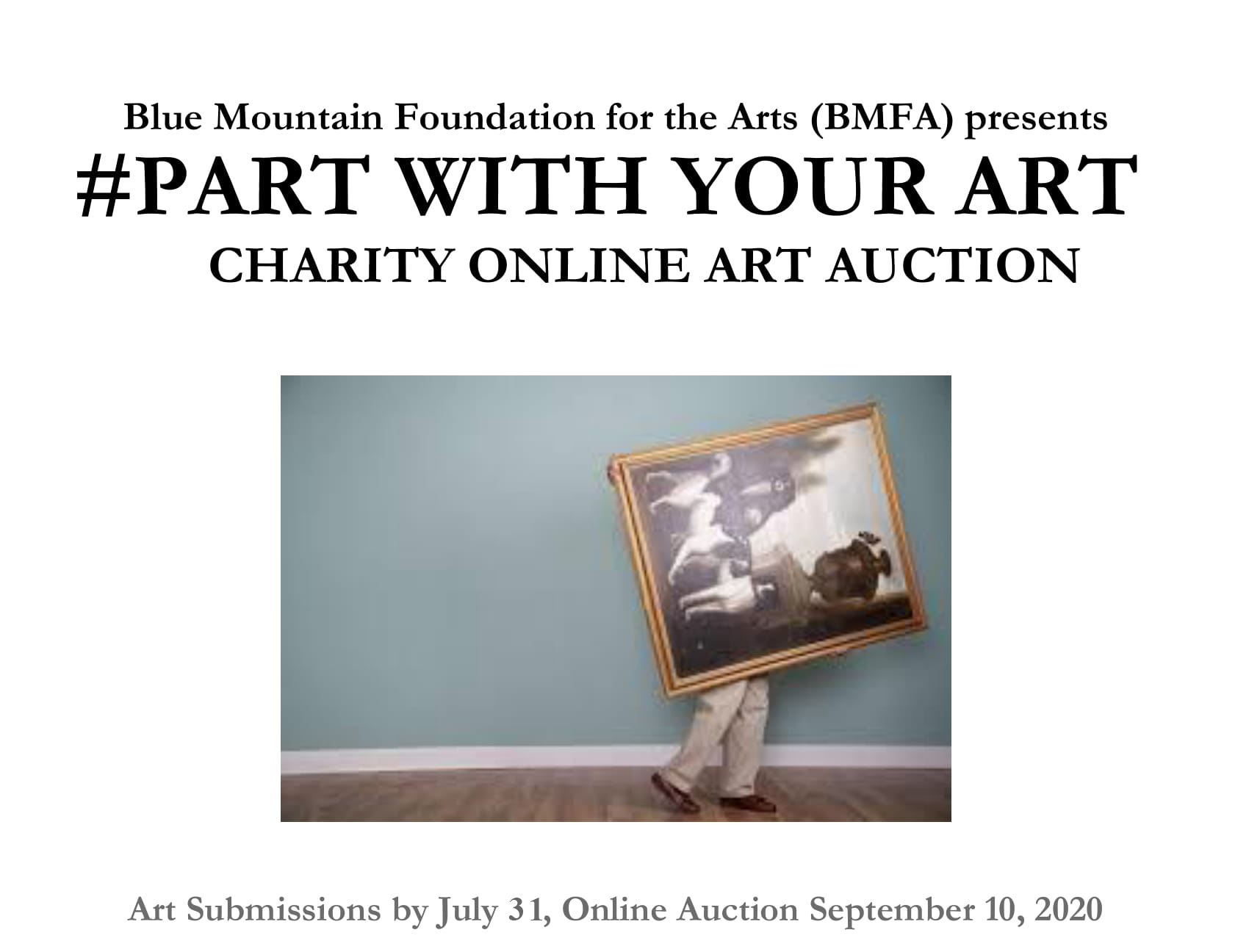 Guidelines
Only pieces in good condition with no visible damage will be accepted. We have the right to refuse submission.  Paintings will be ready to hang, either framed or finished edges.
New art submissions will be restricted to current members of the BMFA.
Acceptance of vintage art is not subject to membership.
You may choose to receive payment from the sale or donate and receive a charitable *tax receipt from BMFA.
Here is the scale of what you receive based on the value of the final sale. There is a sliding scale of what you receive: Sale of up to $200 = 50% to you; sale $200-$500 = 55% to you; sale $500-$1500 = 60% to you; sale $1500+ = 65% to you.
The BMFA will collect art about 10 days before the auction by prior arrangement online. In addition, we have volunteers to help you through the process of pricing, descriptions etc.
The Auctioneer will accept the final bid. The BMFA and the auction service cannot control the sale price.  All sales final.
The description of the piece is simple but important. The "Lead Description" includes what it is eg. Jewelry, pottery, painting etc., artist's name and title.  The "Extended Description" must also be concise.  It can include type eg., watercolour, size, frame detail and if you wish a Gallery Value.
There is a first come first serve selection for each auction which may limit to the number of pieces included. The final submission date for this auction is July 15, 2020.
You can follow the auction online at sydenhamauction.com
*1. Vintage Art is any original or high quality signed and numbered print that is a 10+ years old.
*2.Tax receipt is based on net sold price
If you aren't a member, leave member number blank. If you are a member but don't have your member number, enter "don't know" for member number.
Please size images so they are between approximately 1024 pixels wide or less. If you don't have a photo editor, you can use this online photo resize tool.
Online Registration Form
BMFA Fundraising Online Art Auction
Paper Registration Forms
If you are submitting paper forms, please submit both a registtration form and consignment form for each item. You do not need to use paper forms if you already submitted an online registration form.
Thank you for supporting BMFA by participating in the online auction.